1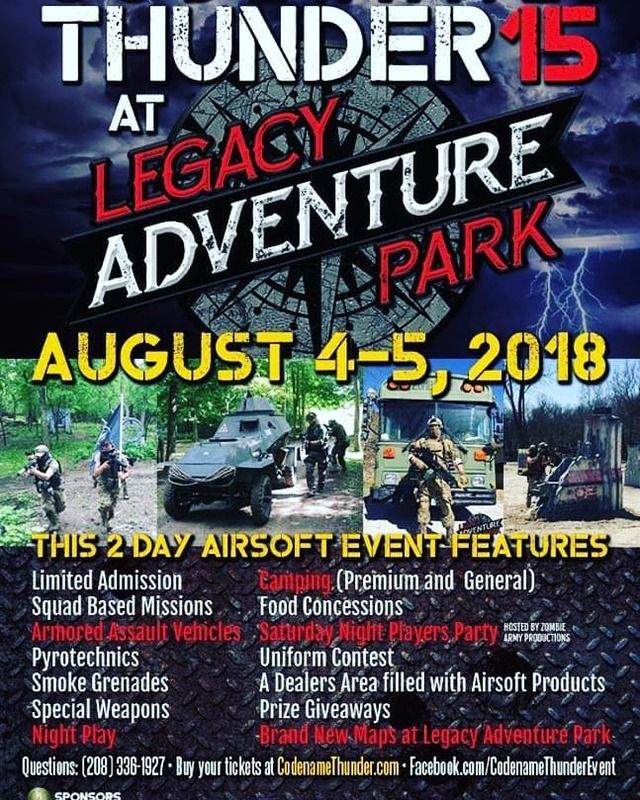 CODENAME: Thunder 15




August 4-5th 2018


@ Legacy Adventure Park
in Lockport, Illinois [/size]Hector Chiro has Returned to battle Zekirov and the Red Hand...
Long thought to be dead, Hector Chiro the ruthless leader of the Chiro Cartel out of Columbia, has resurfaced. Preliminary reports indicate that Chiro has begun a turf war with Zekirov and his Red Hand Syndicate over underground international drug and weapons sales. The CIA has reluctantly had to take a side in the conflict and has backed Zekirov and the Red Hand Syndicate, trying to rid the world of Hector Chiro once and for all. The Russians and the US have sent "Advisors" to back the Red Hand...
More INtel to follow soon...

The Thunder returns...

This Two-Day event features:

Limited Admission
Command Structure to the Squad Level-
Timed Objectives
Multiple scenarios-
Squad Based Missions-
Multiple Respawn Locations-
Varied Special missions-
Armored Assault VehicleS (Two! A Russian armored Car and an uparmored jeep!)
New Props-
Pyrotechnics-
Smoke grenades-
Special weapons-
Night play-
Free camping-
Food Concessions-
A dealers area filled with Airsoft products- (Combat Sport Supply, 7 Paintball, Aggressive Sports and more!
Prize give-aways
And more!
Enlist with the Red Hand Syndicate / Allied Forces, to defeat the Chiro Cartel,
in their quest for Domination at the Midwest's premier Airsoft event, CODENAME: Thunder XV
Spaces are Limited!

More INtel http://www.codenamethunder.comÂ
[/center]